OBC delegation meets Soni, demands greater reservation in J-K
Jammu: A deputation from the State Advisory Board for the Welfare and Development of OBCs yesterday called on and presented a memorandum to AICC General Secretary and the Congress's in-charge for Jammu and Kashmir, Ambika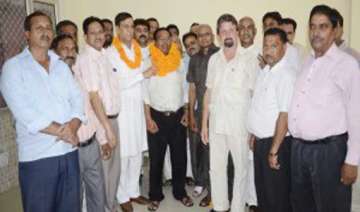 PTI
August 31, 2013 10:23 IST
Jammu:
A deputation from the State Advisory Board for the Welfare and Development of OBCs yesterday called on and presented a memorandum to AICC General Secretary and the Congress's in-charge for Jammu and Kashmir, Ambika Soni.
The deputation of over 100 members, led by the board's Vice-Chairman Kuldeep Raj Verma demanded enhancement of reservation for OBCs from 2 per cent to 27 per cent in keeping with the central government norm in the matter.
"As per the 1931 caste-based census, the OBC population was 32 per cent, but only 2 per cent reservation has been given to them by the J-K government under the nomenclature of Other Social Castes," the memorandum reads.
Verma also demanded a special sub-plan for OBCs saying that the Ministry of Social Justice and Empowerment had provided such plans for SC's and ST's but not for OBCs.
He further stated that there was a need for political reservation for OBCs people as there was not a single representative of the community in either House of the J-K legislature even though they constituted a fourth of the total population of the state.