Odisha videographer held for passing off secrets of DRDO missile range to Pak ISI
Balasore (Odisha): Odisha police on Friday arrested Ishwar Chandra Behera, a contract videographer hailing from Mayurbhanj district, on charge of selling videos and other information relating to the DRDO (Defence Research and Development Organisation) missile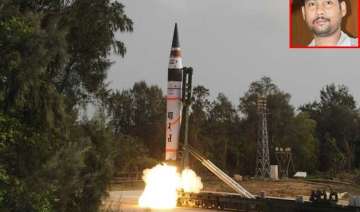 India TV News Desk
January 24, 2015 17:15 IST
Balasore (Odisha): Odisha police on Friday arrested Ishwar Chandra Behera, a contract videographer hailing from Mayurbhanj district, on charge of selling videos and other information relating to the DRDO (Defence Research and Development Organisation) missile range at Chandipur-on-sea.
Police alleged that Behera, who worked as a contract videographer for DRDO at the Chandipur missile range, had been passing off secrets and videos to Pakistani espionage agency ISI for the last eight months. His bank accounts showed money credited from sources in Abu Dhabi, Mumbai, Bihar and Andhra Pradesh.
Odisha police IGP Asit Kumar Panigrahi said, Behera has confessed that "he had met an (ISI) agent in Kolkata a number of times, and he has provided vital information relating to missile tests and other military activities for the past 8-10 months."
Behera, 35, hails from Kantipur village near Baisingha in Mayurbhanj district.
Police have seized computer, cellphone, USP, mail chart, hard disk, bank passbook and pendrive from Behera's home. He had started working as contractual videographer at DRDO's Interim Test Range in Chandipur, said Panigrahi.
Police had been keeping a surveillance on his movement for the last several months. Last week, IGP (intelligence) Arun Kumar Sarangi had ordered a mission to nab him.
A team was formed under the supervision of IGP Panigrahi and SP Balasore Avinash Kumar, to track Behera's movement.
A day before his arrest, his computer and other belongings were seized from his home. Initially, Behera denied his involvement but later confessed, said Panigrahi.
The Interim Test Range at Chandipur is the place from where Agni, Prithvi, Aakash, Naag, BrahMos, Trishul missiles are tested by the DRDO.
Police believe Behera provided secret info relating to missile tests to ISI at least ten times. In return he got Rs 50,000 in ten instlaments in his account. The amounts were transferred first through money order and later through netbanking.
The modus operandi, police said, was that Behera would go close to the missile testing sites, take videos, and then leave for Kolkata in order to get his camera "repaired". There he used to hand over info to the ISI agent, police said.
A case under section 121(a), 120 (b) of Indian Penal Code, and sections 3, 4 and 5 of Official Secrets Act has been lodged.
Behera has been sent to jail, and the police plan to take him on remand for further questioning.