Onion prices: Sheila Dikshit asks Pawar to curtail exports
New Delhi: With retail price of onion soaring to Rs 80 per kilogram, a concerned Delhi Chief Chief Minister Sheila Dikshit, who will be facing election in three months, today asked the Centre to curtail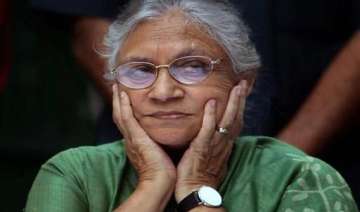 PTI
August 13, 2013 22:18 IST
New Delhi:
With retail price of onion soaring to Rs 80 per kilogram, a concerned Delhi Chief Chief Minister Sheila Dikshit, who will be facing election in three months, today asked the Centre to curtail export of the vegetable to stabilise its rate.
In a letter to Union Agriculture Minister Sharad Pawar, Dikshit sought curtailment of export of onion so that prices of the vegetable could be brought down. As per estimate, a total of 6.39 lakh tonnes of onion was exported during April-July period.
Assembly elections in Delhi will be held in November. In 1989, the then BJP government was voted out of power and high onion prices was attributed as one of the main reasons for BJP's defeat.
Onions, a key ingredient in many Indian dishes, is selling at Rs 70-80 a kg in most areas of the city.
Last week, Delhi government had started selling the vegetable at "reasonable" rates at 350 outlets including 280 Mother Dairy outlets. These outlets are selling the vegetable at Rs 52 per kg.
To mitigate the effect of soaring onion prices, the government today decided to sell onions at reasonable rates through 50 mobile vans across the city from August 17.
The issue of rising prices of onion was today discussed at a high level meeting attended by Food and Supplies Minister Haroon Yusuf and Development Minister Shri Raj Kumar Chauhan besides senior officials of concerned departments.
Chauhan looks after functioning of wholesale vegetable and fruit markets in the city.
"The city government is concerned over the rising trend in onion prices. The shortfall in arrival is due to rains in onion producing states," said Yusuf.
He said arrival of onion in Delhi used to be around 2,000 to 2,500 tonnes per day which has come down to 800 to 1000 tonnes per day.
At Lasalgaon in Nashik, Asia's largest wholesale market for onion, the rate has slightly come down to Rs 45 per kg today from Rs 46 a kg, National Horticultural Research and Development Foundation (NHRDF) data showed.
The spurt in onion prices, which was selling at Rs 20 per kg few weeks back, has disturbed kitchen budget of most consumers who are already facing the brunt of high prices of tomato, pulses and cereals.
The price of onion had touched Rs 40 in retail markets in mid-July also but it had come down after supply was normalised.
Yusuf said government would take strict action against hoarders and black marketers.
"The city government is also going to request other states including Maharashtra, Madhya Pradesh and Rajasthan to take similar action against hoarders of onions," the minister said.