Pak singer Ghulam Ali at music fest in Varanasi temple
Varanasi: In a first for a Pakistani artiste, renowned ghazal singer Ustad Ghulam Ali is performing at a music festival beginning today at the historic Sankat Mochan Temple.Wishing that he could be present at the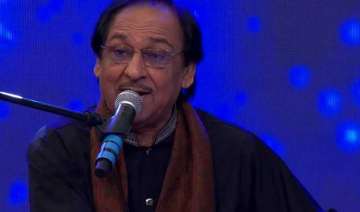 PTI
April 08, 2015 17:02 IST
Varanasi: In a first for a Pakistani artiste, renowned ghazal singer Ustad Ghulam Ali is performing at a music festival beginning today at the historic Sankat Mochan Temple.
Wishing that he could be present at the festival, Prime Minister Narendra Modi, who is an MP from Varanasi, regretted that he is unable to attend the event due to his busy schedule and was hopeful that he will be among the audience in the future.
More than 50 artistes, including Sarod maestro Ustad Amjad Ali Khan, his sons Amaan and Ayaan, Kathak exponent Pandit Birju Maharaj, flautist Hariprasad Chaurasia, Odissi dancer Sonal Mansingh and tabla player Hasmat Ali Khan will participate in the event, according to the organisers.
"For the first time, there will be a performance by a Pakistani artist at the famous temple," Sankat Mochan Temple's mahant (chief priest) Vishwambhar Nath Mishra said.
An invitation was sent to Prime Minister Narendra Modi but he expressed his inability to attend the festival due to his busy schedule.
"I do wish I get the opportunity to attend such a programme in the future where so many well known artistes will be enchanting the audience," Modi said in a series of tweets yesterday.
"I must share that I have heard Ghulam Ali Sahab in the past & that too in person," Modi tweeted.
"Also read in the papers that Ghulam Ali Sahab wished that I attend the programme. Unfortunately, this time I would not be able to do so," tweeted Modi.
"My best wishes to the organisers of the 'Sangeet Samaroh. Several renowned musicians will be gracing the programmes," he said.
The 'Sangeet Samaroh' at Sankat Mochan Temple, which will go on from 8th to 12th April. will truly be a treat for music lovers, Modi said in another tweet.