Visa Row: Pak High Commission is lying, says Anupam Kher
New Delhi: Amid claims and counter claims, Anupam Kher has refuted claims made by Pakistan High Commission that the actor has not applied for visa.The actor said that the Pak high commission is lying, rest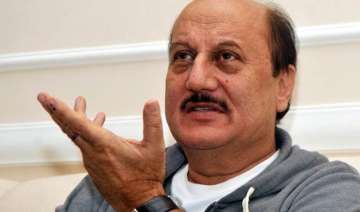 India TV News Desk
February 02, 2016 20:30 IST
New Delhi: Amid claims and counter claims, Anupam Kher has refuted claims made by Pakistan High Commission that the actor has not applied for visa.
The actor said that the Pak high commission is lying, rest of the 17 people got visa only I was denied.
"I would request my Govt to also take it up personally,"Kher told reporters.
"Maybe its due to my point of view on Kashmiri Pandits or my pro-PM stand," he added.
Earlier, Pakistan High Commission  refuted claims of  veteran Bollywood actor Anupam Kher that he has been denied visa to attend Karachi Literary Festival to be held on February 5.
KLF is hosting several luminaries from India, including director/actor Nandita Das, transgender rights activist Laxmi Tripathi and Indian journalist Barkha Dutt.
While Nandita Das has received her visa and will be attending, Kher is off the agenda.
The veteran actor claimed that a total of 18 delegates including him had applied for the visa to attend this festival and that he alone has been denied the permission.
The Hindustan Times also cites reports suggesting that the visa has been denied due to "security reasons".
This is not the first time that Kher has been denied visa to Pakistan. Earlier in May 2015, he was denied visa when he was invited by an NGO for an event in Lahore.
"I am very sad and disappointed. Out of 18 participants, 17 were given a visa and I was denied," Anupam  Kher said.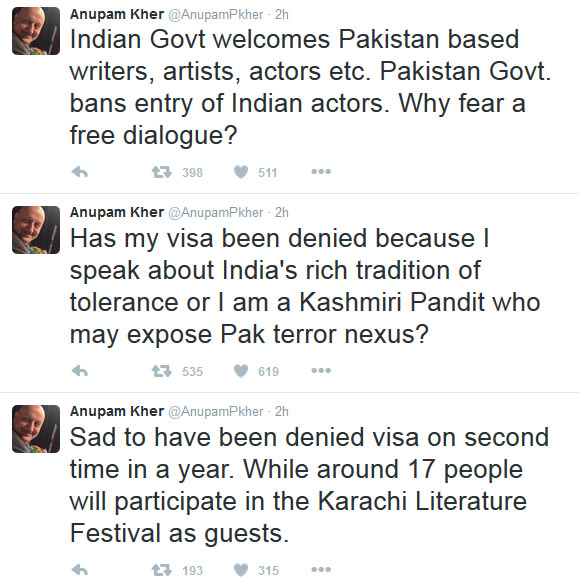 Kher also took to twitter to express his his disappointment.
Refuting claims made by Kher, a Senior official of Pakistan High Commission told India TV, "He has not submitted visa application! Pl check out from him if he has any receipt."
The 60-year-old actor, who has been in the eye of controversy, was awarded the Padma Bhushan recently and also locked horns with Congress leader and MP Shashi Tharoor.
Video: