Pakistan doesn't learn lesson, Defence Minister
Bengaluru: As the ceasefire violations by Pakistan continued unabated, Defence Minister Manohar Parrikar today said Islamabad does not seem to learn any lesson, and India's response had been "more than double the capacity." "Pakistan does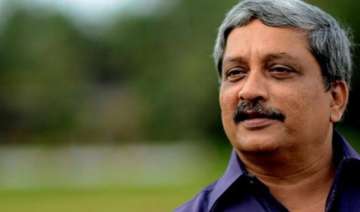 PTI
January 01, 2015 22:23 IST
Bengaluru: As the ceasefire violations by Pakistan continued unabated, Defence Minister Manohar Parrikar today said Islamabad does not seem to learn any lesson, and India's response had been "more than double the capacity." "Pakistan does not like to stay quiet even on New Year day. They started (cross-border) firing at 12.30 in the night and don't seem to learn (any) lesson," Parrikar said at an event here.
Later speaking to reporters, he said, "There are ceasefire violations....whenever they want infiltration to be done, many times they do the firings at night...I don't think that we have allowed that to happen....
"....our response is more than double the capacity," he added.
In fresh ceasefire violation, Pakistan Rangers today targeted 13 border outposts in Samba sector, a day after an Indian jawan and four Pakistani soldiers were killed in exchange of fire.
India said it will lodge a strong protest with Pakistan over the ceasefire violations, the third along the International Border in the past three days and seventh in last eight days.
In an obvious reference to Pakistan and China, during his speech at the event he said, "We are surrounded in northern boundaries by two neighbours who are not very comfortable with us."
Parrikar was speaking at an event organised by "Adamya Chetana", an NGO working in the field of social development managed by Union Minister Ananth Kumar's wife Tejaswini.  
To a question about any big defence deal being in the pipeline during the visit of US President Barack Obama to India later this month, he said, "I can only tell you that there are many things on the radar," but declined to comment on the "size and shape".
He said "when US President comes here, there are technology issues which we are tackling; there are other issues also, but the details cannot be divulged."