Pakistan seeks security for PIA offices in Delhi, Mumbai
New Delhi: Pakistan today said offices of its national carrier PIA, both here and in Mumbai, have received security threats following which the External Affairs Ministry has assured it of necessary security."Pakistan has requested Indian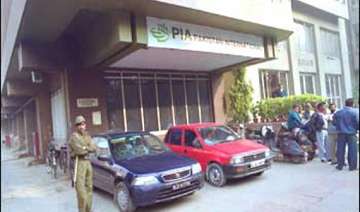 PTI
August 12, 2013 22:24 IST
New Delhi:
Pakistan today said offices of its national carrier PIA, both here and in Mumbai, have received security threats following which the External Affairs Ministry has assured it of necessary security.
"Pakistan has requested Indian government to ensure security and safety of PIA offices in Delhi and Mumbai after it received threats," the Pakistan High Commission spokesperson said.
While raising the issue with the Joint Secretary (PAI) in the MEA, the Pakistani Deputy High Commissioner underlined that it was a "threat to connectivity".
As per official sources in MEA, the Ministry has assured that all necessary security would be provided.
The Pakistan High Commission has uploaded a picture of a pamphlet received by PIA office here asking Pakistan to stop cross-LOC firing and attacks on Indian soldiers besides shutting down the PIA offices.
Later today, PIA officials lodged an FIR here at the Barakhamba Road Police Stations against unknown persons under Defacement of Public Property Act and Threatening (506/507).
"The incident happened yesterday but it came to light today as the office was closed since Friday due to Eid. We have screened the CCTV footage of the PIA office building. Two persons are seen entering the office premises at around 5:30 PM yesterday. We are trying to identify these two people," Additional DCP (New Delhi) Madhur Verma toldPTI.
The two persons, allegedly associated with Shiv Sena, defaced the signboard of the airlines with black paint and threw pamphlets on its premises.