Pakistan violates ceasefire again, fires on 13 border outposts
Jammu: Pakistani rangers violated ceasefire today again by firing on 13 border outposts in Samba sector, drawing retaliation from BSF.The violation comes after four Pakistani rangers were yesterday killed in BSF's strong retaliation after a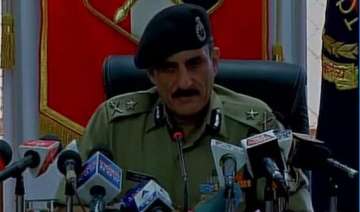 PTI
January 01, 2015 13:19 IST
Jammu: Pakistani rangers violated ceasefire today again by firing on 13 border outposts in Samba sector, drawing retaliation from BSF.
The violation comes after four Pakistani rangers were yesterday killed in BSF's strong retaliation after a jawan of the force lost his life in heavy firing from the other side on a patrol along the International Border in Samba district.  
"Pakistani rangers resorted to firing on 12 to 13 BoPs along the IB in Samba sector overnight," IG BSF Rakesh Sharma said today.
"The BSF also retaliated, resulting in exchanges which continued till 0600 hours today, the IG said.  "There was no causality or injury to anyone in the firing today," Sharma said.
Today's firing by Pakistan was the third ceasefire violation along the IB in the past three days and seventh in last eight days.
In the yesterday's incident, one BSF jawan was killed and another injured in firing by Pakistan on Regal post in Samba.  BSF had retaliated effectively to the Pakistani firing and four Pakistani rangers were killed (opposite to Regal post) along the IB in the Samba sector, Sharma had said.  
As Pakistani rangers suffered casualties, they had waved white flags asking BSF to stop the firing so that they can lift the bodies of its dead men, he had said.  
Honouring their request, BSF had stopped the firing and allowed them to come to the border line and lift the bodies.