Pakistan violates ceasefire along border
Jammu: Pakistani troops today violated ceasefire and resorted to firing at Border Out Posts (BoPs) along International Border in Kathua district of Jammu and Kashmir, drawing retaliation from BSF troops.  Pakistan Rangers resorted to firing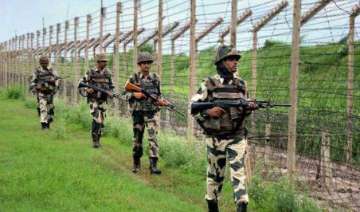 PTI
April 15, 2015 23:56 IST
Jammu: Pakistani troops today violated ceasefire and resorted to firing at Border Out Posts (BoPs) along International Border in Kathua district of Jammu and Kashmir, drawing retaliation from BSF troops.  
Pakistan Rangers resorted to firing from automatic weapons and small arms at BoP Karole Krishna along IB in Hiranagar sector of Kathua district in the evening today, a police officer told PTI.
He said they also fired two mortar shells of 51 mm range, however, no damage was caused.  BSF troops guarding the borderline retaliated and exchanges of fire continued for about 20 minutes, he said adding that no one was injured in the firing.