Approval of Parliament not required for changes in nuclear liability clause
On January 25, India and the United States announced a "breakthrough" in negotiations to operationalise the long-stalled nuclear deal. It is now learnt that the central government is planning to make the changes in the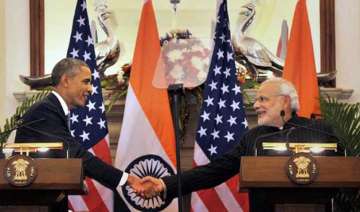 India TV News Desk
January 29, 2015 17:41 IST
On January 25, India and the United States announced a "breakthrough" in negotiations to operationalise the long-stalled nuclear deal. It is now learnt that the central government is planning to make the changes in the liability clause of the nuclear deal through an executive order. The decision was taken after consultations with the officials in the law ministry.
Prime Minister Narendra Modi is likely to give a statement in the parliament regarding the latest visit by US President Barack Obama. During US Presdient Barack Obama's recent visit, it was announced that the US and India have at last found a way around India's Civil Liability for Nuclear Damages Act, 2010.
As per the details, Indian public sector insurance companies would carry 50 per cent of the Rs. 1,500 crore liability arising out of any nuclear accident due to a supplier's' fault, the rest 50 per cent being borne by the Indian government. On the issue of the applicability of other laws apart from liability, a Memorandum of Law would be issued that would in effect modify the Act, without it going back to Parliament.
However, Congress has said that it will take on the government in Parliament on the India-US nuclear deal during the Budget session and will demand details of the assurances given by it for resolving the seven-year-old logjam. The party noted that the government has kept all the details of assurances given to the US side "vague" and just announced the resolution of the deadlock during US President Barack Obama's visit here.
The Congress party at the same time made it clear that it was not opposing the finalisation of the agreement as the "India-US nuclear deal was scripted by the UPA, which the BJP then opposed but finally adopted".
"Government must inform Parliament about the assurances on the commercial component of the agreement it reached, the financial liability clause and the compensation part. We do not have the fine print of the assurances given as yet."
Congress members will raise the issue in both Houses when the Budget session begins on February 23 and will ask the government to inform Parliament of the assurances that have been given, some party functionaries indicated, adding the issue could be raised during the debate on President's motion in the House on February 24 and 25.
Presently, The Indian liability law holds the suppliers directly liable in case of a nuclear accident while countries like France and the US have asked India to follow global norms under which the primary liability is with the operator.
Since all nuclear power plants in the country are run by the state-owned Nuclear Power Corporation of India Ltd, following the international norms will mean the government would have to pay the damages in case of an accident.