Parliament Deadlocked For 8th Day Over FDI Issue
New Delhi, Dec 1: The stalemate in Parliament over FDI in retail and other issues led to adjournment of the Question Hour and later for the whole day  in  both the Lok Sabha and the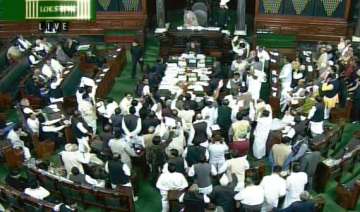 PTI
01 Dec 2011, 19:03:02 PM IST
New Delhi, Dec 1: The stalemate in Parliament over FDI in retail and other issues led to adjournment of the Question Hour and later for the whole day  in  both the Lok Sabha and the Rajya Sabha for the eighth consecutive day today.

Trouble started soon after Speaker Meira Kumar made obituary reference in the Lok Sabha to former member Harish Kumar Gangawar (Congress) and read out a message on World AIDS Day.

AIADMK members from Tamil Nadu rushed to the Well seeking implementation of the Supreme Court directive on raising the storage level of the Mullaperiyar dam to 142 feet.

Members from Kerala entered the Well from another side demanding that the water level in the dam be maintained at 120 feet keeping in mind safety of the 116-year-old structure.

Trinamool Congress members were seen in the aisles protesting the decision on allowing 51 per cent FDI in multi-brand retail and 100 per cent FDI in single-brand retail.

BJP members were on their feet demanding an adjournment motion on the FDI issue.

Left members were also seen raising the FDI issue.  Congress members from Telangana and some TDP members raised slogans for a separate Telangana.

Despite the din, the Speaker took up the Question Hour but nothing could be heard. As the unruly scenes continued, Kumar adjourned the proceedings till noon.

At noon, when both the houses reassembled, papers were laid on the table amidst the table, and the houses were adjourned till Friday.