Parliament panel calls for DRDO revamp, seeks role for private sector
New Delhi: Worried over the "giant gap" in the availability of arms and ammunition and its implications for India's "combat ratio" with prime adversaries, a parliamentary panel on Monday called for a "complete revamp" and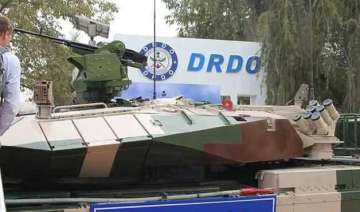 PTI
April 27, 2015 22:54 IST
New Delhi: Worried over the "giant gap" in the availability of arms and ammunition and its implications for India's "combat ratio" with prime adversaries, a parliamentary panel on Monday called for a "complete revamp" and re-orientation of DRDO to allow active participation of the private sector.
The Standing Committee on Defence said India was facing a "gigantic gap" in the availability of regular arms, ammunitions and equipment and batted for the resurgence of the Defence Research and Development Organisation (DRDO) even as it stressed that an environment must be created where the public and private sector can work together.
"The gigantic gap in the availability of regular arms, ammunition, equipment ranging from 30 to 70 per cent, brings the combat ratio against our prime adversaries at an all time low," the committee said in a report.
It stressed on the need for a "complete revamp and re-orientation of how DRDO functions" with one of the major suggestions being for encouraging the active involvement of the private sector, universities, IIT and IIS. These could play a major role in the resurgence of DRDO, it added.
"An environment may be created where public sector and private sector can work in collaboration so that R&D activities can be synergised and better coordination achieved," it said.
The committee felt that a level-playing field may be ensured for Indian private players who may be allowed to tie up with foreign manufacturers to develop certain equipments based on the requirement of users.
Peeved at the high number of projects abandoned or closed by DRDO, the panel recommended that, in the future, there should be a scientific, technical and concurrent audit by an independent agency of every ongoing project.
It also said that the defence ministry should re-evaluate the reasons and seek expert advice before taking a decision for closing down any DRDO project in order to, among others, avoid wastage of public money.
The committee expressed "deep concern" over the "wasteful expenditure" incurred by DRDO in closing major projects like the ones for Airborne Surveillance Platform, Cargo Ammunition, GPS-based system as alternative to Fire Detection Radar, development of 30mm Fair Weather Towed AD gun system, Light towed AD Gun system and 30mm Light towed Gun System after getting these projects sanctioned.