Parrikar lauds Coast Guard for intercepting Pakistani boat
New Delhi: Defence minister Manohar Parrikar on Friday complimented the Indian Coast Guard for intercepting a suspicious Pakistani fishing boat apparently loaded with explosives.An official statement said Parrikar "complimented the Indian Coast Guard and those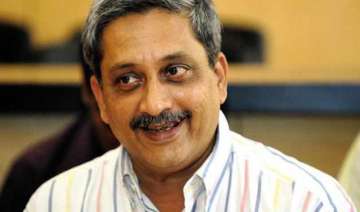 IANS
January 02, 2015 23:29 IST
New Delhi: Defence minister Manohar Parrikar on Friday complimented the Indian Coast Guard for intercepting a suspicious Pakistani fishing boat apparently loaded with explosives.
An official statement said Parrikar "complimented the Indian Coast Guard and those involved in the operation for intercepting the rogue vessel off the coast of Gujarat, in a timely and precise manner, thereby, averting a possible danger".
In a blatant reminder of the 26/11 terror attack, the Coast Guard in a dramatic chase intercepted and stopped the boat, which blew up in the sea and sank off Gujarat late Wednesday night.
The vessel, which had set off from near Karachi on the eve of New Year, turned into a ball of fire and sank after its occupants, believe to be four in number, set fire to it early Thursday.