Parrikar wanted DRDO chief to go
New Delhi: Defence Minister Manohar Parrikar said Tuesday that it was on his recommendation that DRDO chief Avinash Chander's term was ended as the officer had already retired.A day after a notification was issued to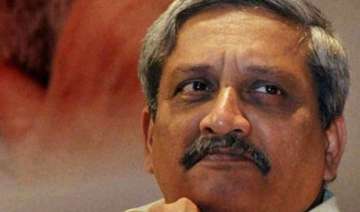 IANS
January 14, 2015 15:58 IST
New Delhi: Defence Minister Manohar Parrikar said Tuesday that it was on his recommendation that DRDO chief Avinash Chander's term was ended as the officer had already retired.
A day after a notification was issued to terminate Chander's services as chief scientific advisor to the prime minister and chief of Defence Research and Development Organisation, the minister said there was no row over the removal.
"I recommended that a person on contract should not be occupying such a senior position. This senior position should be filled by other eligible senior persons. There is no controversy here," he said.
"The tenure of DRDO chief would normally have ended in November but the previous cabinet had approved a three-year extension to his term, with the additional years being on contract," Parrikar told reporters.
The minister added that the post would be filled by someone for now till a permanent replacement was found.
"As of now the person to replace him has not been decided. We will fill the post temporarily by someone who has the urge for development."
Chander, widely known as the man behind the Agni series of missiles, retired Nov 30, 2014 and thereafter continued on contract. The contractual term was to end May 31, 2016.