Patna Crowd Sets Fire To Vehicles After Miscreants Fire At Lady Councillor
Patna, Jan 9 : Irate supporters of a local independent councillor Prabha Devi today set fire to two vehicles, after miscreants fired at her in connection with a land dispute, injuring her nephew.  Prabha Devi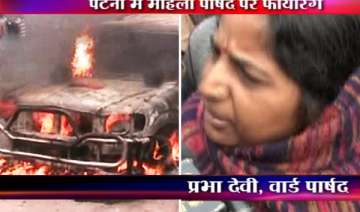 India TV News Desk
January 09, 2012 13:53 IST
Patna, Jan 9 : Irate supporters of a local independent councillor Prabha Devi today set fire to two vehicles, after miscreants fired at her in connection with a land dispute, injuring her nephew.
 
Prabha Devi told mediapersons that she was discussing with local residents near Boring Road in Rajapur area this morning, when four miscreants in a Sumo fired at her.
 
Prabha Devi ducked, but two bullets hit her nephew Ashutosh who was rushed to hospital.
 
Soon after her supporters gathered and stoned passing vehicles. Two vehicles including a bus were set on fire.
 
Police took a long time in reaching the spot, locals alleged.
 
The dispute related to a land and vacating a shop, after which two groups began quarreling with each other.  Kim, Patna City SP, said the entire matter is being investigated.