Peace and tranquility of India must be maintained: President
New Delhi: President Pranab Mukherjee Saturday asked all governors to ensure that peace and tranquility of the country is maintained.Interacting with governors/lt governors through video conferencing from Rashtrapati Bhavan here, the president said: "We have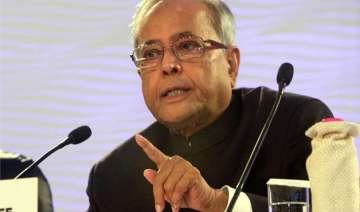 IANS
January 11, 2015 6:51 IST
New Delhi: President Pranab Mukherjee Saturday asked all governors to ensure that peace and tranquility of the country is maintained.
Interacting with governors/lt governors through video conferencing from Rashtrapati Bhavan here, the president said: "We have to be ever vigilant against all efforts to disturb peace and tranquility".
"India's secular, democratic fabric is guaranteed by the constitution. The preamble proclaims securing to all its citizens liberty of thought, expression, belief, faith and worship. The constitution respects all religions," he told them, an official release said.A
He also said that both the central as well as the state governments have to work together to achieve India's rightful place in the world.
"To realise the aspirations of our countrymen and guide India's rightful ascent in the comity of nations, both the central and the state governments have to collectively share the responsibility," he said.
Mukherjee said the "scourge" of left-wing extremism should be tackled through the twin-pronged strategy of development and deterrence, he said.
To those states which have international borders, he said another major issue was security in the border areas.
"While India is committed to peace and non-violence, we cannot afford the luxury of being complacent on our borders," he said.
"We should be ready to take all steps necessary to ensure both internal and external security, and protect the territorial integrity of our nation," the president said.