People Within The Army Plotted Against Me, Gen Singh Told The Week
New Delhi, April 6 : Embattled Army chief General V.K. Singh has said, a "lot of money was given to several people to do derogatory and completely fake stories" against him .In an interview to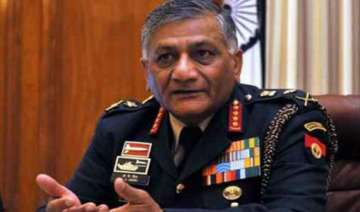 PTI
April 06, 2012 12:26 IST
New Delhi, April 6 :
Embattled Army chief General V.K. Singh has said, a "lot of money was given to several people to do derogatory and completely fake stories" against him .
In an interview to the Week, the army chief said retd. Lt Gen Tejinder Singh was not the only one. There were others too, he said.
Following are excerpts from his interview to The Week:
After a long and distinguished career, you ran into turbulent days as Army chief. As Chief of Army Staff, how do you want to be remembered?
I want to be remembered [as one who] tried to reestablish the value system in the Army, a value system which has [traditionally] sustained us. We also launched a transformation initiative to build the Army's operational capability. Some sections of the headquarters were redesigned to improve decision-making. Now we have a dedicated officer to look after international cooperation, and we are becoming a networking force. From a threat-based force, we are becoming a capability-based force.
We have not seen a major procurement during your tenure.
For the first time in the Indian Army we have fully used the allocated budget for procuring weapons. We submitted 106 procurement proposals to the defence ministry. They were pending for six months because the joint secretary who deals with procurement was transferred and there was no replacement for him. Our procurement system is slow. And, for a decade we have been unable to procure a full-body truck scanner because every time we are about to close the deal, there are allegations of corruption.
The finance ministry froze the Army's proposal to raise a mountain strike corps. Was it a setback?
It was. We took stock of our northern border from Karakoram Pass to Arunachal Pradesh and identified a particular threat. We need monetary support to build capability. The armed forces are like an insurance policy to the nation. If you have a lousy policy you will suffer. Remember 1962 [war with China]? We were not equipped and prepared. As the Army failed, the country suffered at all levels. That should never happen again. Never.
Does the 1962 defeat still hurt the Army?
We look at the 1962 war with great regret. Our men fought bravely, but we did not have weapons. My unit fought in Namka Chu river. It lost 282 people. Among the survivors were one officer, two JCOs and around 30 soldiers. Our men went there without winter clothing, and with just 50 rounds of ammunition and 40 rounds of mortars. We allowed ourselves to be beaten. We must pledge that we will never allow another 1962 to happen.
Many accuse you of dividing the Army by putting your personal prestige at stake?
It was a personal issue, and I dealt with it personally. It came up because there was some RTI [application] which was motivated. The whole issue was played up to highlight that I had fudged my date of birth. All I was saying was that I have not fudged my date of birth. A lot of people went on a drive to tarnish my image because they were not happy with the cleansing action I had taken. You will be surprised to know the amount of money which was spent to get the false certificate about my DoB.
Who was spending money to defame you?
There were a large number of people. A lot of money was given to a lot of people to do stories against me. The stories were derogatory and completely fake.
One person you accused of plotting against you is Lt-Gen. (retd) Tejinder Singh.
He was not the only one. We have identified a number of people. We know who did what. We have evidence of how documents were leaked and how much money was given.
There were people within the Army who were plotting against you?
Yes, there are.
Were you surprised that serving officers were working against you?
In a large organisation like ours you will always have people who feel left out. There were people who were doing wrong things, but after we stopped those things they turned against me.
Is the Army taking any action against them?
We have evidence, and necessary action is being taken. If someone has betrayed the Army, there will be punishment. This is the rule of the Army.
How has your relationship with Defence Minister A.K. Antony been?
He was always good to me. There has never been a single difference between me and my defence minister. I was plain-spoken with him and he appreciated that.
Despite the bugging controversy?
There was no bugging. The fact is that our team came across some discrepancies while checking the defence minister's room on February 16. The DGMI [director-general, Military Intelligence] informed the defence secretary about it and recommended to him to seek the help of other agencies to verify why there were discrepancies. If the suspicion was on the military, the defence minister would have stopped MI from checking his room. We still conduct checking of his room.
Do you regret your time as chief?
No, not at all.
What is the biggest misconception about you?
A lot of people think that I have an axe to grind with people.
Did you have an adviser when you went to court?
It was my own call to approach court. I have not sought help or advice from any member of my staff. I tried my best to keep the organisation away from my personal issue.
Looking back, do you think you could have handled the DoB issue better?
I used legal remedies available to a citizen of this country. Ask anyone who is familiar with my office, I have not allowed the controversy to affect my work.
How do you see the Army chief designate Lt-Gen. Bikram Singh?
I see him carrying forward the good work of the Army.
The Indian Army, over the past couple of years, has had a slow procurement process. Would it be fair to say that the Army is failing on the modernisation front?
If we have to meet the challenges to the country, we need to modernise our forces quickly so that we have the capability to safeguard our national interests. Modernisation of the Army has not taken place at the desired pace. We need to analyse what acquisitions have taken place in the last couple of years and see what systemic improvements can be made to streamline the process. Unless this is done quickly, our obsolescence levels will keep increasing, making it difficult to modernise in an acceptable time frame.
Lt-Gen. Bikram Singh takes charge of the Indian Army in May. What must his priorities be?
The new chief would have to work on a range of issues. First of all, operational preparedness would be his major concern. Secondly, modernisation needs to be put back on track. Thirdly, the image of the Army in the eyes of our countrymen needs to be rebuilt. Fourthly, to dispel demoralisation, promotion boards need to be hastened and there should be greater emphasis on motivation and training.
What is the most challenging part of the the Army chief's job?
Besides ensuring operational readiness of his force to carry out mandated tasks, I feel the most challenging task is to be an interface for the Army with all other organs of the government so as to have a smooth and functional relationship.
What are your plans after retirement?
I have no plans yet. After I retire, I want to give myself some rest.