Perpetrators Of 13/7 Blasts, Delhi HC Blast Were Staying In Mumbai Till This Month
Mumbai, Jan 16: Mumbai Mirror today reported a disturbing story of how the three men who planned and executed last year's serial blasts in Mumbai and Delhi High Court blast, were holed up in an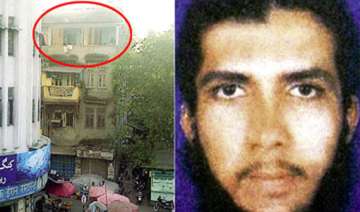 PTI
January 16, 2012 8:23 IST
Mumbai, Jan 16: Mumbai Mirror today reported a disturbing story of how the three men who planned and executed last year's serial blasts in Mumbai and Delhi High Court blast, were holed up in an apartment in Byculla, not more than 15 minutes' walk from the Anti-Terrorist Squad's Nagpada headquarters, till just a few weeks ago.

The report quoting reliable sources said, the trio - comprising two Pakistanis and India's most wanted Yasin Bhatkal alias Shahrukh of Indian Mujahideen - during their stay in Mumbai, found time to travel to Delhi to plant a bomb near Delhi High Court that killed 11 people and left over 70 injured in September last year.

The safe house, an apartment on the third floor of Habib building near Byculla Railway Station, is now locked and its owner a woman has been detained by the ATS for questioning.

An unidentified man who had negotiated the apartment's lease, has also been picked up. The only information available about this man so far is that he runs a factory in Bhiwandi. 

The owner of the apartment has told the police that her three tenants did not even redeem their security deposit when they left the house in the first week of January, without informing her that they were leaving for good.

She told the investigators that the apartment was rented out some time in April last year.The Mumbai serial blasts that left 26 people dead and over 100 injured;took place three months later in July.  Mirror reporters went to Habib building on Sunday,only to find the apartment locked.

The residents refused to speak about their former neighbours.  They even refused to confirm whether they saw the trio in the building.The ground-plus-three storey building itself is dilapidated,and each floor houses around six small apartments.

Bhatkal's two Pakistani associates who helped him plant the bombs at Zaveri Bazar,Opera House and Kabutarkhana in Dadar;and subsequently at the Delhi High Court's gate number 5,have been identified as Waqar and Tabrez.

A team of Delhi Polices Special Cell has been in Mumbai for almost a month now, assisting the ATS after receiving information about Bhatkal and his two associates' presence in Mumbai.

But the effort may be too little, too late because the three as per the latest information available with investigators,have managed to leave the country.

Delhi Police received information about Bhatkal and the two Pakistanis' presence in Mumbai, after interrogating seven Indian Mujahideen operatives from Purnia and Madhubani districts of Bihar; and in Chennai in November last year.

A huge cache of arms and ammunition was recovered from them.The explosives for Mumbai and Delhi blasts,they have told the Delhi Police, came from Chennai.

The Indian Mujahideen has been badly hit, and faces a massive shortage of manpower ever since Mumbai,Gujarat and Delhi Police launched crackdowns in 2008.

Following the arrest of seven Indian Mujahideen operatives last year, it was revealed that Iqbal Bhatkal,Riyaz Bhatkal and Yasin Bhatkal were in Delhi for two months after the 2008 Batla house encounter.

Later,the trio moved to Darbhanga in Bihar,where they stayed in an accommodation facilitated by German Bakery blast suspect Qateel.

Later,Riyaz and Iqbal crossed over to Nepal and from there to Pakistan,leaving Yasin behind to execute the Mumbai and Delhi blasts.