Petrol dealers in Rajasthan to observe strike from midnight
Jaipur: Demanding roll back of 4 per cent VAT hike imposed by state government on fuel sales, petrol dealers will observe a one-day strike at their outlets from midnight tonight, an official of the industry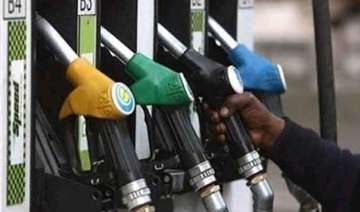 PTI
January 06, 2015 23:11 IST
Jaipur: Demanding roll back of 4 per cent VAT hike imposed by state government on fuel sales, petrol dealers will observe a one-day strike at their outlets from midnight tonight, an official of the industry body said here.  
"About 3,600 petrol outlets in the state would go dry mid night for a day on the sole demand of withdrawal of 4 per cent VAT imposed additionally by the Raje government on December 18 after constant fall of fuel prices in the international market," President of Rajasthan Petroleum Dealers Association (RPDA) Sumit Bagaee told PTI.
A fresh round of talks on the matter between RPDA and the Principal Secretary, Food and Civil Supply Subodh Agarwal failed after the official told the delegation that state government will not roll back the VAT hike, Bagee said.
RPDA also held a meeting with the State level Coordination Committee member of IOC to apprise him of the situation and it was decided to hold the one-day strike tomorrow, he said.
After hike of 4 per cent VAT, Rajasthan was collecting 22 per cent VAT plus 0.50 paise per litre as road cess on diesel, and 30 per cent VAT plus 0.50 paise cess on petrol per litre, he said.
Heavy vehicles were buying diesel from the neighbouring states where the VAT was comparatively very low, and hence it caused net cash loss to petrol outlets of Rajasthan, he said.
The state government deducted the hiked VAT from the retrospective date of December 17, though the notification to this effect was issued on December 18, he claimed.  "If our demand is not met, RPDA will plan a long term strike at petrol outlets", he warned.
Both Food and Civil Supply Minister HemSingh Bhadana and the department's Principal Secretary could not be reached for comments.