PM's panel suggests cutting food security coverage, recommends cash transfer
New Delhi: A panel appointed by Prime Minister Narendra Modi has recommended to the government to reduce the food security coverage under National Food Security Act (NFSA) from current 67% to 40% of the population.It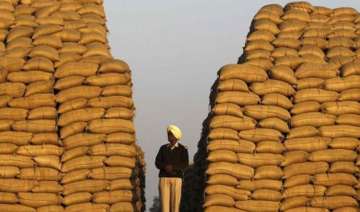 India TV News Desk
January 22, 2015 18:04 IST
New Delhi: A panel appointed by Prime Minister Narendra Modi has recommended to the government to reduce the food security coverage under National Food Security Act (NFSA) from current 67% to 40% of the population.
It has also made recommendation  for  suspending  implementation of the scheme in those states which have not complied with the rolled-out conditions.
The panel headed by former food minister Shanta Kumar, has recommended extensive changes in the functioning of Food Corporation of India (FCI) and the minimum support price (MSP) regime.
Following are the changes suggested by the panel –
1) The government should raise the quantity of food provided to those below poverty line from current 5 Kg to 7 Kg per person.
2) It has also suggested an alternate to grain provision. It said, "The states which are deficit in grains should be given the option of either grain or cash," as is told by a source privy to Times of India newspaper.
With this the panel has recommended the government to move to a direct cash transfer regime for food subsidy and has also estimated that if followed, then the savings on food subsidy could be as much as Rs 30,000 crore per year.
3) Panel has also initiated recommendations for fertilizer subsidy. It said that subsidy for fertilizers should be paid directly to farmers on per hectare basis which is roughly Rs 7000 per hectare. "This will result in saving nearly Rs 10,000 to Rs 15,000 crore annually in fertilizer subsidy," the source said.
4) A liquidation policy should also be there which may kick in immediately when the stocks go beyond the buffer stock limit.
"FCI should get a free hand," the source said. Currently, it sells in open market or exports after approval from Cabinet which raises its effective carrying cost.
5) The panel even recommended to change the name of FCI.
"The new of FCI will be akin to an Agency for Innovations in Food Management System with a primary focus to create competition in every segment of food grain supply chain, some procurement to stocking to movement and finally distribution in public distribution system so that the overall costs of the system are substantially reduced, leakages plugged and it serves large no of consumers and farmers," added the same source.
6) Government should move its procurement move to eastern states of the country.  It says that if any state is giving bonus then the payment for the extra state should be borne by that state only and not FCI.
7) There should be a maximum limit on taxes which the states impose for procurement.  Currently the variation in the maximum limit within the states is too high where Punjab charges 14.5% tax, Gujarat has less than 2%.
8) The committee also recommended a revamp in the grain handling and stocking operations of FCI. It said that FCI should move to bulk handling and mechanize its operations in such a manner so that it reduces its dependency on 'labor gangs'.
9) The temporary storage methods should also be suspended and the agency should rather run "grain trains" to transfer grains form one location to another.
10) The stocking of grains should be left to Central and State Warehousing Corporations.
11) It further recommended, that private sector should also be encouraged to build silos as the existing silos of FCI needs a face-lift. At present, the country needs around 10 million tones capacity of storage.
12) Lastly, the panel said that the government should make changes in its MSP policy also. Currently, MSPs are announced for 23 commodities, but effectively price support operates primarily in wheat and rice and that too in selected states," the source said.