PM, Sonia attend marriage of Lalu's daughter
New Delhi, Apr 24: RJD chief Lalu Prasad's sixth daughter Anushka today tied the knot with Chiranjeev Rao, son of Haryana Power Minister Ajay Singh Yadav, at a ceremony attended by a host of political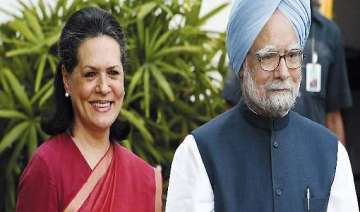 India TV News Desk
April 24, 2012 23:01 IST
New Delhi, Apr 24:
RJD chief Lalu Prasad's sixth daughter Anushka today tied the knot with Chiranjeev Rao, son of Haryana Power Minister Ajay Singh Yadav, at a ceremony attended by a host of political leaders including Prime Minister Manmohan Singh and Congress President Sonia Gandhi.  
Rao is currently President of Haryana Youth Congress.  The marriage, held at Prasad's official residence 25, Tughlaq Marg here, recorded the attendance of the Prime Minister and the Congress President.
Delhi Lt. General Tejendra Khanna, Chief Minister Sheila Dikshit, Union Minister Jyotiraditya Scindia, BJP leader L K Advani, SP Chief Mulayam Singh Yadav, his son and UP Chief Minister Akhilesh Yadav and Prasad's arch rival in Bihar politics Chief Minister Nitish Kumar and Deputy CM Sushil Kumar Modi were among the important guests.  
Nitish Kumar had also attended the marriage ceremony of Lalu Prasad's fifth daughter Hema at the same venue in March this year, which was also attended by the Prime Minister as well as Gandhi.
Congress leader Abhishek Manu Singhvi was also seen at the function.
Congress Media Department head Janardhan Dwivedi, Motilal Vohra, Union Minister Kumari Selja, Makhanlal Fotedar, Yoganand Shastri, LJP Chief Ram Vilas Paswan, Dr Naresh Trehan and BJP leader C P Thakur were also present.  
Prasad has seven daughters and two sons. Anushka is second daughter of Prasad to marry a politician's son.
The RJD chief's fourth daughter Ragini tied the knot in the last week of January this year with son of former Samjawadi Party MLA from Ghaziabad Jitendra Yadav, who has at that time joined Congress and was made party candidate from Sikandarabad in Uttar Pradesh Assembly polls this year.  Jitendra Yadav, however, again joined Samajwadi Party after he lost in the polls.
Anushka is the fourth daughter of Prasad to be married in the national capital ever since Prasad's party lost power in his home state Bihar.
Prasad's third daughter Chanda was the first to be married in the national capital. She had tied the knot with an Indian Airlines pilot from Haryana when Prasad was Railway Minister in UPA-I.
The first two daughters Misa and Rohini were married in Bihar when Rabri Devi was the chief minister. His sons Tej Pratap and Tejaswi are younger to Ragini.