Police prevent 6 Kashmiri youths from joining militant ranks
Srinagar: Six young boys were detained by police, and handed over to parents, as they were heading to join militant ranks in south Kashmir Shopian district, officials said today."We have detained six youth following technical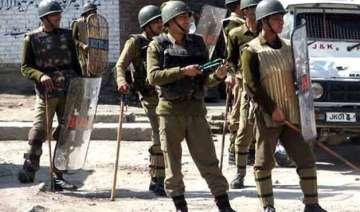 PTI
April 09, 2015 19:38 IST
Srinagar: Six young boys were detained by police, and handed over to parents, as they were heading to join militant ranks in south Kashmir Shopian district, officials said today.
"We have detained six youth following technical inputs that they are planning to join militant ranks earlier this week. All of them were handed over to their parents after counselling," a police officer told PTI here.  He said the parents of the youth, aged between 16 and 20 years, were asked to take care of the boys in future so that they are not misled by militants.
He said one person, who had allegedly motivated the youth to join militant ranks, was detained and his questioning was going on.