Poor Attendance At PM's Amritsar Rally
Amritsar, Jan 21: Nearly half of the pandal where the Prime Minister Dr Manmohan Singh today addressed his election rally was empty, even as he read out his written speech in Punjabi.  Party organisers in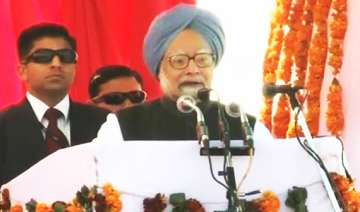 India TV News Desk
January 21, 2012 22:46 IST
Amritsar, Jan 21: Nearly half of the pandal where the Prime Minister Dr Manmohan Singh today addressed his election rally was empty, even as he read out his written speech in Punjabi.
 
Party organisers in order to hide the empty space  in the pandal put curtains to keep the prying cameras away.
 
Nearly half the chairs kept at the Ranjit Avenue grounds were empty due to the current cold wave in the state.
 
Ruling SAD-BJP leaders were quick to point this out as a flop rally. BJP candidate from Amritsar North Anil Joshi said such a small crowd could be easily collected in any assembly constituency, whereas the PM's rally was supposed to be a district-level rally being addressed by a national leader.
 
However, Congress candidate from Amritsar West Raj Kumar claimed that the pandal as he saw was full to capacity. Voters in Amritsar go to polls on Jan 30.