President's rule in AP: Governor says peace, order top on priority
Hyderabad : With President's rule being imposed in Andhra Pradesh, Governor E S L Narasimhan yesterday asserted that maintenance of public peace and order would be top priority for him.He said that normal life would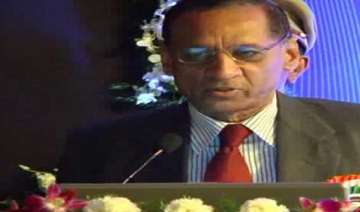 PTI
March 03, 2014 10:10 IST
Hyderabad :
With President's rule being imposed in Andhra Pradesh, Governor E S L Narasimhan yesterday asserted that maintenance of public peace and order would be top priority for him.
He said that normal life would go on as usual when President's rule is in force and investor confidence will be held high.
"My topmost priority would be maintenance of public peace and order... everything else follows on if there is peace and order," he told reporters in his maiden press conference here, a day after President's rule was imposed.  
He said all the development programmes would be carried on uninterrupted and the bureaucracy is expected to ensure that the fruits of development reach the last man.  
He also plans to undertake visits to the districts.  The investor confidence would be maintained at a high level to ensure that Andhra Pradesh remains a favourite destination for investments, the Governor said.  
"In the last four years, questions that have been raised by anybody who came to meet me was 'Sir, how safe it is to invest in Andhra Pradesh?'. 'Will the state be bifurcated or not?' This one question has been raised again and again.  Now that the event has happened, we know exactly what is in store for us.
"I think we will ensure that investor confidence is maintained high. Unless the investments come, our development is going to suffer. We would like to keep the investor confidence at a very, very high level. We will be talking to investors also and tell them that Andhra Pradesh is a very secure destination for investments. This is actually a 'Swarnabhoomi'," he said.
PTP