Protests At Delhi Govt School After 300 Out Of 320 Class XI Girl Students Fail Exam
New Delhi, Apr 2: Students  of Sarvoday Girls Higher Secondary School in Palam, south-west Delhi, today staged a noisy protest in the school premises after it was found that their teachers had failed 300 out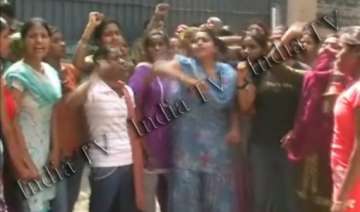 India TV News Desk
April 03, 2012 22:18 IST
New Delhi, Apr 2:
Students  of Sarvoday Girls Higher Secondary School in Palam, south-west Delhi, today staged a noisy protest in the school premises after it was found that their teachers had failed 300 out of a total of 320 girl students in five sections of Class XI.  
The girl students alleged that the teachers hardly took classes, and forced them to do menial work like sweeping the classroom floors throughout the year.  
They alleged that the teachers had already threatened them to fail most of them during the exam.  
The girl students demanded re-checking of their  exam compies followed by a re-test.  
The school administration called in police after the protests turned noisy. Nobody on behalf of the school administration was available for comment.