Protocol stopped Vice-President from saluting tricolor on R-Day: V-P Office
New Delhi: Following the accusations made by social media users on Vice-President Hamid Ansari for not saluting the flag on Republic Day; his office had to issue a response statement in New Delhi on Monday.The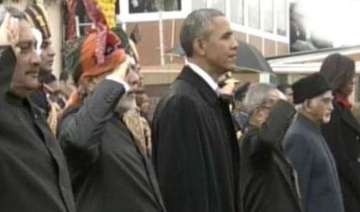 India TV News Desk
January 27, 2015 18:49 IST
New Delhi: Following the accusations made by social media users on Vice-President Hamid Ansari for not saluting the flag on Republic Day; his office had to issue a response statement in New Delhi on Monday.
The statement clarified that the V-P's act was not a breach of protocol or a dishonor to the flag, infact; it is according to the protocol only.
It stated, "As per the protocol, when the national anthem is played, the principal dignitary and persons in uniform take the salute. Those in civil dress stand in attention."
The statement further said, ""During the Republic Day Parade, the President of India, as Supreme Commander, takes the salute. As per protocol, the vice-president is required to stand in attention."
It further added, "When the vice president is the principal dignitary, he salutes during the national anthem, wearing a headgear, as done at NCC camp this year."
Gurdeep Singh Sappal, CEO and editor-in-chief of Rajya Sabha TV, who was also officer on special duty to the Vice President on Republic Day, tweeted to clarify this protocol.
He clarified that the V-P isn't supposed to salute the flag when the president is present.
Reportedly, after the Republic Day ceremonies on 26th January, social media was abuzz with disparaging remarks for the vice-president with photos that while President Pranab Mukherjee, Prime Minister Narendra Modi, Defense Minister Manohar Parrikar saluted the flag, Ansari had his hands by his side.
Although some criticized Ansari for this act, there were many others who felt that raising this was unnecessary and shameful.