Punjabi Writer Kartar Singh Duggal Dead
New Delhi, Jan 27 :  Eminent Punjabi writer Kartar Singh Duggal died here yesterday of old-age related ailments. He was 94.The writer, who had also served as a Director of All India Radio, was admitted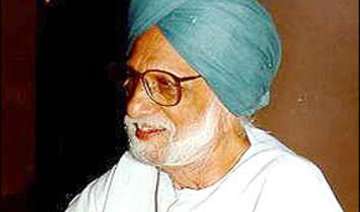 PTI
January 27, 2012 14:13 IST
New Delhi, Jan 27 :  Eminent Punjabi writer Kartar Singh Duggal died here yesterday of old-age related ailments. He was 94.

The writer, who had also served as a Director of All India Radio, was admitted to All India Institute of Medical Sciences on Monday last and the end came  last evening. 
Duggal has carved a place for himself by penning novels, short stories and plays in Punjabi, Urdu, Hindi, and English, with equal elan and was a winner of Sahitya Akademi award and Padma Bhushan.
Duggal is survived by his wife Ayesha, a doctor, and a son.

A master story-teller, Duggal, during a career spanning for over four decades, has written 24 collections of short stories and ten novels weaving the historical strands of the Partition saga and intricacies of human relationships in modern society.

Considered a virtual pioneer of modern Punjabi fiction, Duggal also penned seven plays, seven works of literary criticism, two collections poems and an autobiography.  Many of his books have been adopted by various universities in graduation courses and translated into other Indian languages.

Born on March 1, 1917, to Jiwan Singh Duggal and Satwant Kaur in Dhamal in Rawalpindi district now in Pakistan, Kartar Singh Duggal did his M.A. in English from Forman Christian College, Lahore, and started his professional career with All India Radio (AIR) where he worked from 1942-66 in various capacities including as Station Director.

For AIR, Duggal wrote and produced programmes in Punjabi and other languages.He was the Secretary/Director of National Book Trust of India from 1966-73 before serving as an Advisor in the Ministry of Information and Broadcasting from 1973 to 1976.  Duggal was awarded the Padma Bhushan in 1988. In 2007, he was awarded the Sahitya Akademi Fellowship, the highest honour given by the Akademi.

As a chronicler of tragic social events in the wake of the Partition, Duggal earned the repute of a naturalistic writer.However, it was his exploration of a woman's pschye that gave him a distrinct identity and made him a powerful voice of the other gender in a patriarchal society.

In his writings, Duggal never left behind the cultural baggage of his Pakistan's province of Punjab. The environs of Pothohar, especially its dialect, became an integral part of his works which were filled with nostalgia and intimacy. 

Duggal was was honoured with almost all major literary prizes including the Sahitya Akademi Award, Ghalib Award, Bharatiya Bhasha Parishad Award, Bhai Mohan Singh Vaid Award, and Soviet Land Nehru Award.

He has founded many institutions, including Raja Rammohun Roy Library Foundation, Institute of Social and Economic Change, Bangalore and Zakir Husain Educational Foundation. 
Duggal had been a member of many literary and cultural centres, the President of Punjabi Sahitya Sabha (Punjabi Literary Society), Delhi.

He was a Fellow of the Punjabi University in 1984 and a nominated member of Rajya Sabha in August, 1997.  Condoling the death of Kartar Singh Duggal, Prime Minister Manmohan Singh said the world has lost one of its "most versatile and distinguished personalities".

"I am deeply grieved to learn of the passing away of the eminent writer Kartar Singh Duggal. In Duggal's sad demise, the Indian literary and cultural world has lost one of its most distinguished personalities," Singh said in his condolence message.

"Duggal was not only a versatile writer who wrote in four languages- Hindi, Punjabi, English and Urdu, but also excelled in public service and as an institution builder. His interventions in Parliamentary debates are still remembered by many members. He leaves behind a void that will be very difficult to fill. My thoughts are with his wife Ayesha and his family," the Prime Minister said.