Puri civil court orders demolition of Biju Patnaik samadhi
Puri (Odisha): A civil court in Puri has ordered the demolition of the samadhi of former Odisha chief minister Biju Patnaik at the famous Swarga Dwar crematorium here.Sreemoyee Acharya, civil judge, junior division, Puri, ordered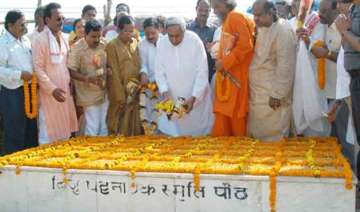 India TV News Desk
January 03, 2015 16:51 IST
Puri (Odisha): A civil court in Puri has ordered the demolition of the samadhi of former Odisha chief minister Biju Patnaik at the famous Swarga Dwar crematorium here.
Sreemoyee Acharya, civil judge, junior division, Puri, ordered that the samadi be demolished within three months.
The court said, the Swarga Dwar crematorium was a place for Hindus who cremate the bodies of their beloved ones, and it was illegal for anyone to construct a memorial at the crematorium.
No other construction except one that is required in public interest be allowed at the crematorium, the court ordered the state government and the Puri Municipal Corporation.
In course of hearing, the counsels for defendants, Odisha government and Puri Municipal Corporation, said both the bodies had no role, nor were they aware about the construction of the samadhi for Biju Patnaik.
The court issued its order on December 27 following a plea by three legal practitioners Ramesh Prasad Singh, Bikash Kumar and Manoj Das. The court upheld the petition which said construction of a memorial at the cremation spot, considered sacred by Hindus, was illegal.
Biju Patnaik passed away on April 17, 1997, and was cremated at the famous Swarga Dwar crematorium in Puri.