R-Day celebrations: US Secret Service concerned over President Obama's longest exposure in the open
New Delhi: The US Secret Service agents are working hard to ensure full protection to President Barack Obama who, for the first time, will sit in the open for full two hours at the Rajpath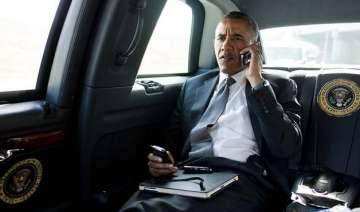 India TV News Desk
January 14, 2015 9:25 IST
New Delhi: The US Secret Service agents are working hard to ensure full protection to President Barack Obama who, for the first time, will sit in the open for full two hours at the Rajpath during Republic Day celebrations.
It should be noted that the protocols do not allow the US President to sit in open for long hours.
Officials involved in the preparations of high-profile visit said that the Secret Service never allows the President to sit out in the open for long durations. The longest time Obama sat in open is 30 to 40 minutes in 2009 and 2013 when he took oath. This is for the first time that the US President will be sitting in the open for full two hours.
Nearly 450 Secret Service agents are scheduled to accompany Obama during his visit. Obama would be lodged at the ITC Maurya hotel during his stay in the city.
The security agencies of the two nations are busy in finalising plans for Obama's protection in the national capital, especially after series of alerts stated that terrorists may target the city ahead of the Republic Day.
According to some media reports,  officials are considering on an idea of raising a transparent bullet proof enclosure around Obama and his host President Pranab Mukherjee.
Meanwhile, Indian officials are still trying convincing the US security agencies to allow Obama to travel in Mukherjee's limousine for arriving on Rajpath. As of now, there is no clear indication so far whether Obama will travel along with Mukherjee in his bullet-proof limousine. If he does, he will be possibly the first US President not to travel in his own highly-secured 'Beast'.
An advance liaison team of the US secret service has already held a few rounds of meetings with their Indian counterparts and another meeting will be held on Friday when the final itinerary will be discussed threadbare by the security officials of the two countries.
At least 10,000 paramilitary troopers will join the 80,000-strong Delhi Police to ensure fool-proof security in and around Rajpath where the main Republic day function will be held.