Rahul Gandhi Agrees To Visit Pakistan On Bilawal's Invitation
Islamabad, Apr 8: Congress general secretary Rahul Gandhi has agreed to visit Pakistan on the invitation of Pakistan Peoples Party chairman Bilawal Bhutto Zardari.23-year-old Bilawal, who is accompanying his father President Asif Ali Zardari on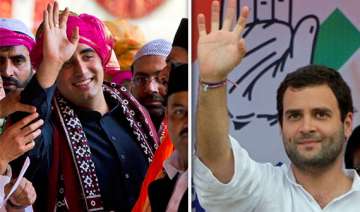 PTI
April 08, 2012 18:44 IST
Islamabad, Apr 8:
Congress general secretary Rahul Gandhi has agreed to visit Pakistan on the invitation of Pakistan Peoples Party chairman Bilawal Bhutto Zardari.
23-year-old Bilawal, who is accompanying his father President Asif Ali Zardari on a day-long trip to India, met Rahul for 40 minutes at Prime Minister Manmohan Singh's residence in New Delhi where they were invited for lunch.
During the meeting Bilawal extended an invitation to 41-year-old Rahul to visit Pakistan which the Congress leader accepted, Pakistani media reported here.
In turn, Rahul also invited Bilawal to visit India again, the News International reported.
Bilawal was appointed chairman of the PPP after the assassination of his mother former Prime Minister Benazir Bhutto in 2007.
After the lunch, Bilawal left for Ajmer along with his father to offer prayers at the shrine of Khwaja Moinuddin Chisti.