Rahul Says, Mulayam Became CM Thrice But Could Not Fulfil Hopes Of People
Banda, UP, Jan 20: Congress general secretary Rahul Gandhi today lashed out at Samajwadi Party supremeo Mulayam Singh Yadav and said he could not fulfil the hopes of the people of UP despite being the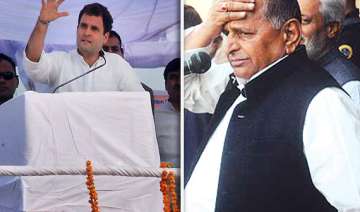 India TV News Desk
January 20, 2012 16:14 IST
Banda, UP, Jan 20: Congress general secretary Rahul Gandhi today lashed out at Samajwadi Party supremeo Mulayam Singh Yadav and said he could not fulfil the hopes of the people of UP despite being the chief minister thrice.
 
Addressing an election rally here, Gandhi said, Mulayam Singh's poll slogan was "Umeed Ki cycle" (Cycle of Hope) but I want to ask him he was chief minister here thrice, but could not fulfil the aspirations of the people.
 
Give Congress a chance, said the Gandhi scion, and we will show you how governance is.
 
On the Bundelkhand package, Rahul Gandhi said, the centre had sent money for Bundelkhand, but the "ministers sitting in Lucknow ate away all the money".