Rain in Delhi, no dip in temperature
New Delhi: Delhi saw a brief spell of rain Sunday which proved to be of no help in bringing down the temperature and humidity. The met department has forecast light showers on Monday.While the maximum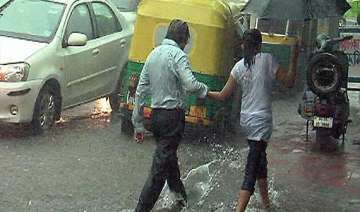 IANS
August 25, 2013 19:37 IST
New Delhi:
Delhi saw a brief spell of rain Sunday which proved to be of no help in bringing down the temperature and humidity. The met department has forecast light showers on Monday.
While the maximum temperature was recorded one notch above average at 35 degrees Celsius, the humidity wavered between a high of 95 percent and a low of 60 percent.
Some parts of south and north Delhi witnessed heavy rains while some parts in the capital saw light showers.
According to the India Meteorological Department, a total of 13.4 mm of rain was recorded between 8.30 a.m. and 5.30 p.m.
No major traffic snarl was reported due to water logging in the capital, said an official of Delhi Traffic Police.
The minimum temperature settled at 26.1 degrees Celsius - which was normal for this time of the season.
Earlier Sunday, the capital woke up to a sunny morning.
"The sky will be partly cloudy and light showers are expected on Monday," said a met official.
The maximum and minimum temperatures are likely to hover around 36 and 26 degrees Celsius, respectively.