Rajat Sharma narrates anecdotes about Thackeray at FICCI Ladies event
Kolkata: FICCI Ladies Organisation held a seminar in honour of India TV Chairman and Editor-in-Chief Rajat Sharma in Kolkata on Saturday. The ladies tried to grill  Rajat Sharma on the lines of India TV's most popular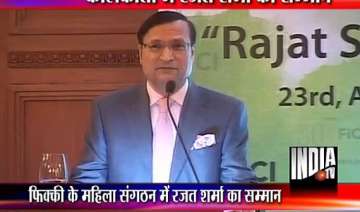 India TV News Desk
24 Aug 2013, 18:28:11 PM IST
Kolkata:
FICCI Ladies Organisation held a seminar in honour of India TV Chairman and Editor-in-Chief Rajat Sharma in Kolkata on Saturday. 
The ladies tried to grill  Rajat Sharma on the lines of India TV's most popular show 'Aap Ki Adalat' on different issues. 
Well known personalities from the the business world were also present on the occasion.
Narrating anecdotes of his encounters with top politicians in Aap Ki Adalat show, Rajat Sharma described how he tried to grill the late Shiv Sena chief Bal Thackeray.
"My first question to Bal Thackeray was: the entire city of Mumbai trembles when it hears your name, is that true? Thackeray wittily replied: Why not? Do you think it will tremble at your name?"
"In that show, I asked Bal Thackeray, why was there so much bloodshed in Ayodhya(at the time of demolition), do you think it would have made Lord Ram happy?  His reply was: I don't know about Lord Ram, but I can say, it definitely made me happy."