Rajdhani Express Brake Shoe Hits And Kills Boy At Faridabad Station
Faridabad, Jan 5: A flying brake shoe which broke from a speeding Rajdhani Express today hit a 10-year-old boy on his head killing him instantly.Limka, a resident of Bherugarh near Indore, was going to meet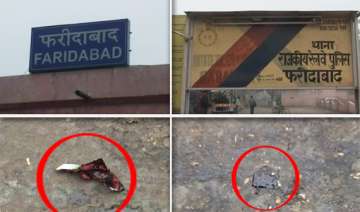 India TV News Desk
January 05, 2012 21:44 IST
Faridabad, Jan 5: A flying brake shoe which broke from a speeding Rajdhani Express today hit a 10-year-old boy on his head killing him instantly.

Limka, a resident of Bherugarh near Indore, was going to meet his relatives in Palwal, when the metal hit him on his head on the platform.

The boy's parents were waiting for a train to Palwal, when the mishap took place.

The boy's parents blamed the technical department of Indian Railways responsible  for this mishap.

Says Station Superintendent D D Singhal: "We immediately informed the GRP and RPF and the incident is being probed as per Railway rules."

Nobody from the Railways is speaking about compensation to the poor family, which ekes out its living by working as labourers.