Ramdev Announces Launch Of Campaign Against Black Money
Haridwar/Dehra Dun, Apr 1: Yoga guru Ramdev today announced a fresh agitation against black money and corruption and said he will stage a one-day dharna on June 3 at New Delhi to mark the first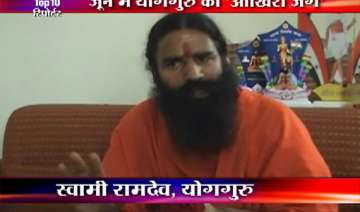 PTI
April 01, 2012 21:16 IST
Haridwar/Dehra Dun, Apr 1:
Yoga guru Ramdev today announced a fresh agitation against black money and corruption and said he will stage a one-day dharna on June 3 at New Delhi to mark the first anniversary of the police crackdown on his supporters at Ramlila grounds.
Ramdev got support for his fresh campaign, which kicked off today, from Anna Hazare who said they have decided to carry out the fight against corruption together. Hazare said he would go to Delhi on June 3 if he gets a "messsage" from the yoga guru.
He told reporters in Haridwar that plans for a "bigger" agitation in August will be announced on June 3 during his one-day dharna at Jantar Mantar.
"We have announced the launch of a country-wide peaceful movement against black money and corruption from today," Acharya Balkrishna, a close associate of Ramdev, said in Dehra Dun.
Balkrishna said Hazare would also be giving his support to the movement.
"We have already made it clear that both Anna Hazare and Baba Ramdev will give support to each others' campaigns," he said.
Asked whether he would go to Delhi to join Ramdev on the day of his dharna on June 3, Hazare said, "Yes. When he will give me the message I will go to Delhi."
"We will meet soon. We have decided to carry this fight (against corruption) together" Hazare told reporters in Ralegan Siddhi in Maharashtra.
The Supreme court blamed both the Delhi Police and Ramdev for the midnight crackdown on the intervening night of June 4-5 at the Ramlila Maidan last year during the protest demonstration.  However, the court noted the cops had assaulted sleeping victims and that the police and the state could have avoided the incident.