Security tightened in Puri for peaceful Rath Yatra
New Delhi: A tight security ring was put in place in Puri in view of Rath Yatra in Puri in order to have peaceful celebration of the world renowned Rath festival of Puri. 104 battalions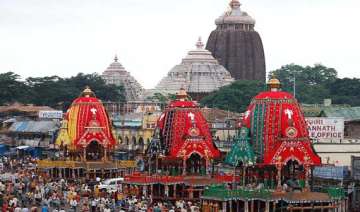 India TV News Desk
June 27, 2014 13:33 IST
New Delhi:
A tight security ring was put in place in Puri in view of Rath Yatra in Puri in order to have peaceful celebration of the world renowned Rath festival of Puri.
104 battalions of police, 2 units of Special Operation Group (SOG), 1 squad team, 2 companies of Rapid Action Force, 2000 home guards and officers from different districts are deployed for the smooth, peaceful and successful celebration of the car festival.
Puri superintendent of Police Anoop Kumar Sahoo, said "as of now we have not received intelligence input involving threat to Puri Jagannath temple, but we are ready to face any possible occurrence."
For the smooth and peaceful celebration of the car festival (Rath Yatra) every person entering the temple is frisked and their belongings are scanned. Close circuit cameras have been installed at strategic locations inside the temple complex and outer walls of the shrine to keep a vigil on the movement of suspicious persons.
Security personnel will monitor the camera recording from a control room. Besides, metal detectors and mobile phone jammers will be installed at the gates of the shrine.
It is an ancient ritual associated with most of the Jagannath Temples when the Idols of Lord Jagannath, Balabhadra, Subhadra and Sudarshan are replaced by a new set of Idols which will fall in 2015 so there will be huge congregation of piligrims to Puri so we have elaborate arrangement for this Rathyatra.
According to sources, since there was rumors of terror attack during the Rath Yatra, an anti terror group is appointed to countenance the terror attack, security also is tightened in the costal areas, traffic police have been deployed at various locations out side the town and in the town, crowd managing plan also formed for the smooth moving of the people.