Real life Auro: A 14-year-old boy in Bihar looks like a 110-year-old man
Patna: In a real life character similar to that of Auro (of Paa fame), a 14-year-old boy now looks like a 110-year-old man in Bihar because of a rare disease which makes him age eight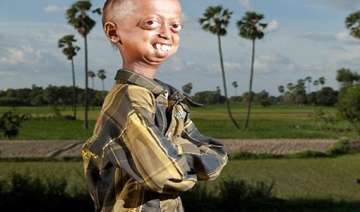 India TV News Desk
October 21, 2013 6:47 IST
Patna:
In a real life character similar to that of Auro (of Paa fame), a 14-year-old boy now looks like a 110-year-old man in Bihar because of a rare disease which makes him age eight times faster than normal. 
Ali Hussain has seen five of his siblings die from the same condition called Progeria which is known to affect just 80 people worldwide.
Two of his brothers and three of his sisters have died from the disease in Bihar, the poorest state in India.
Progeria causes rapid ageing and sufferers of the genetic disease are prone to arthritis, eye problems, heart disease and baldness.