Resolution of US concerns on nuke liability law unlikely soon
New Delhi : Suppliers' concerns over India's nuclear liability law that have held up new agreements on construction of nuclear plants in the country are not likely to be resolved soon -- going by indications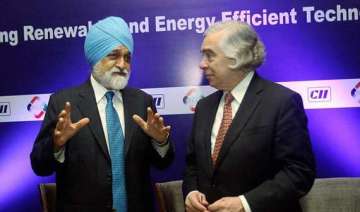 IANS
March 12, 2014 7:04 IST
New Delhi :
Suppliers' concerns over India's nuclear liability law that have held up new agreements on construction of nuclear plants in the country are not likely to be resolved soon -- going by indications given by top Indian and US officials here Tuesday.
Jointly addressing media persons here after the first leg of the US-India Energy Dialogue 2014, Planning Commission Deputy Chairman Montek Singh Ahluwalia and visiting US Energy Secretary Ernest Moniz said the pace of civil-nuclear energy collaboration required to be speeded up.
"We have to do much more (on nuclear cooperation). The negotiations are ongoing and the issues can be resolved within the framework of the (Indian) civil nuclear liability act," Ahluwalia said.
India's Civil Liability for Nuclear Damages Act, 2010, which holds the operator wholly liable in the event of an accident, gives it a right of recourse against suppliers if the accident is caused by defective equipment.
Informing the media that the Indo-US civil-nuclear working group is due to meet Wednesday in Mumbai, Ahluwalia said some progress had been made in the contract with an American company.
The agreement between US's Westinghouse and state-run Nuclear Power Corp had been announced last year during Prime Minister's visit to the US.
Pointing out that other areas of collaboration on energy have gone ahead much faster, the US Energy Secretary said: "One achievement of the Indo-US energy cooperation is a small contract put in force during Prime Minister Manmohan Singh's visit last fall that has Westinghouse working with colleagues here in terms of advancing a possible deal."
Moniz said the key issue was a resolution of the matter in terms of the Convention on Supplementary Compensation that is due to come into force this year.
"The key issue is the resolution of the Viability Convention to see that India is aligned with the international convention on Supplementary Compensation, which we expect will come into force this year," Moniz said.
The US wants India to sign this convention that will allow American companies significant legal protection in terms of liability.
Rosatom, the Russian builders of the Kudankulam Nuclear Power Project (KNPP), said last month that the parties were close to resolving their differences over the nuclear liability law that has held up agreement on construction of units 3 and 4 of KNPP.