Rs. 70,000 crore at stake as bookies place bets on BJP forming government
New Delhi: The most anticipated elections since 1991 may be all over, if one goes by the odds placed on various parties and candidates in the illegal betting market.  Narendra Modi, punters believe, will be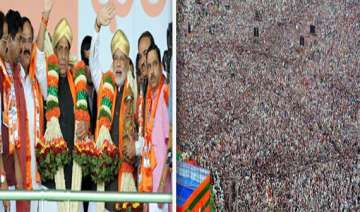 India TV News Desk
March 14, 2014 6:33 IST
New Delhi:
The most anticipated elections since 1991 may be all over, if one goes by the odds placed on various parties and candidates in the illegal betting market.  
Narendra Modi, punters believe, will be crowned the prime minister in May and the National Democratic Alliance (NDA) will be able to touch the magic figure of 272.
They believe that recent controversies surrounding Aap will not allow the party to get more than six to eight seats.