Sachin's nomination is Congress's 'dirtiest play', says Thackeray
Mumbai, Apr 29: Commenting on the nomination of cricket icon Sachin Tendulkar to the Rajya Sabha, Shiv Sena supremo Bal Thackeray today said it was the "dirtiest play" of Congress."It is Congress's dirtiest play...the real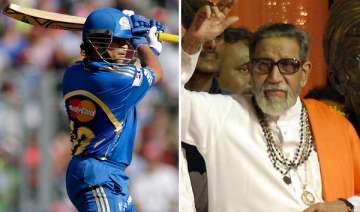 PTI
April 29, 2012 18:38 IST
Mumbai, Apr 29:
Commenting on the nomination of cricket icon Sachin Tendulkar to the Rajya Sabha, Shiv Sena supremo Bal Thackeray today said it was the "dirtiest play" of Congress.
"It is Congress's dirtiest play...the real Dirty Picture is this", Thackeray said talking to reporters after he was conferred with a lifetime achievement award by Raipur-based magazine 'Cartoon Watch' at a function here.
Asked how would he draw Sachin's cartoon, Thackeray, who ran a cartoon magazine before founding Shiv Sena, said that in some cases "a mere photograph is enough" and there is no need to draw a cartoon.
Yesterday, in the editorial in Sena mouthpiece Saamana, Thackeray had said that Congress must have an ulterior motive in nominating Sachin to the upper house of the Parliament.
"Crores of Sachin's fans would have liked to call him 'Bharat Ratna Sachin Tendulkar'. Alas, he would now only be Sachin Tendulkar, MP", the editorial said.
The Sena chief, however, added that he was proud of Tendulkar.
"I feel proud of Sachin. Amitabh Bachchan, Jaya Bachchan, Hema Malini, (too), went to the Rajya Sabha. But before going there, one should know whether he has a scope there", he said.
On his stand on the upcoming Presidential election, Thackeray said: "I have not thought about it. Don't you find one suitable person for the post of President? After every five years this whole thing starts."
Asked if he endorsed Union Agriculture Minister and NCP chief Sharad Pawar's recent statement that the next President must be a person without political leanings, Thackeray only reacted: "Don't tell me about Pawar...he is an unreliable man."