Top 15 safety tips to survive an Earthquake
Nature has its own way to make its presence felt and assert its authority. No matter how advance humans become, they  remain utter helpless in front of Mother Nature.The natural calamities are highly unpredictable and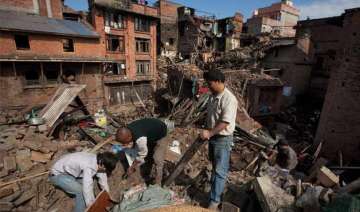 India TV News Desk
April 27, 2015 17:36 IST
Nature has its own way to make its presence felt and assert its authority. No matter how advance humans become, they  remain utter helpless in front of Mother Nature.
The natural calamities are highly unpredictable and at times highly devastating. One such natural calamity is the 'earthquake' which recently shook Nepal along with Northern and Eastern India.
The nasty earthquake that hit Nepal on 25th April 2015, caused massive destruction in Kathmandu and took away more than 3200 lives.
The earthquake which was measured 7.9 on the Richter scale also triggered an avalanche on Mount Everest which killed around 17 people.
Nepal is still experiencing after shocks even after 48 hours of the tragedy.
Though various countries are still working on the technology to predict the earthquakes they are yet to succeed.
Since earthquakes can come anytime and anywhere, here we bring you some safety tips that might help you survive an earthquake.
1. Whenever an earthquake hits, don't panic. Keep calm and put out fire quickly if cooking.
2. Immediately hide yourself under a large table or desk and hold on there.
3. Keep yourself away from bookcases or furniture that can fall on you.
4. Stay away from windows. Be careful of fallen objects or shattered glass in the home.
5. If you are in bed, hold on and stay there, protecting your head with a pillow.
6. Don't use elevators as they might stuck in the midway
7. If you are outside, find a safe spot for yourself away from buildings, trees, and power lines and drop to the ground.
8. If you are driving, slow down smoothly and stop on the side of the road. Try and find a clear place to stop the car.
9. Avoid stopping on or under bridges and overpasses, or under power lines, trees and large signs. Stay in your car.
After the Earthquake
1. Be prepared for aftershocks.
2. Check yourself for the injuries and help the ones who need aid.
3. Check for structural damage, but be cautious enough to enter a building that shows damage or has visible cracks in the walls or foundation.
4. Be careful while walking to avoid stepping on broken glass and debris.
5. Turn off gas, electricity, and water if damage is suspected
6. Keep phone lines clear for emergency use.