Saibaba Sansthan devotees board membership hike kicks up a row
Shirdi: The Maharashtra Government's recent move to increase membership fees of the Saibaba Sansthan Bhakta Mandal, the board of devotees, has upset devotees who have threatened to agitate against the decision.  "Due to the Maharashtra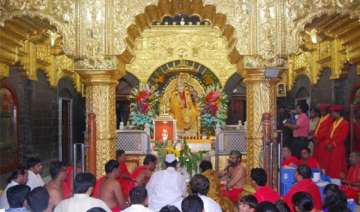 PTI
January 02, 2015 8:27 IST
Shirdi: The Maharashtra Government's recent move to increase membership fees of the Saibaba Sansthan Bhakta Mandal, the board of devotees, has upset devotees who have threatened to agitate against the decision.  
"Due to the Maharashtra government's decision, a strong resentment has been created among Saibaba devotees who have warned that they would launch an agitation against the increase in devotees' board membership fees," Sanjay Kale, a social worker from Kopargaon, said.
Bhakta Mandal Executive Officer Rajendra Jadhav told PTI that as on March 31, 2014, the Sansthan had a total of 2,03,889 members who are sent formal invitations to Saibaba festivals as well as 'prasad' (offering).  
He said the Maharashtra Government has increased membership fees for the board from January 1.  
The fees to become a patron member of the board has been increased from Rs 1,500 per member to Rs 5 lakh, while lifetime membership fee has been increased from Rs 251 to Rs 50,000, Jadhav said.
As per the new government rules, patron membership to those who pay Rs 5 lakh would last for 20 years, while the lifetime membership would have 15 years' duration and a general one would be valid for only a year, he said.  On December 31, 2014, devotees queued up to get membership from 4 pm to midnight.
As many as 780 members enrolled for lifetime memberships, while 77 devotees enrolled for patron memberships by paying total fees of Rs 3,11,280, Sansthan sources said.
However, most devotees failed to get memberships due to the heavy rush and the Sansthan suffered a loss considering the fact that on the same day last year, its donation counter had collected Rs 15 lakh in merely two hours, they said.