Sand mafia shifts from Noida
Hapur, UP: The Noida sand mafia has allegedly shifted its activities to Saharanpur in Uttar Pradesh, police said Friday after they seized 15 trucks loaded with sand and arrested the drivers.The sand was being brought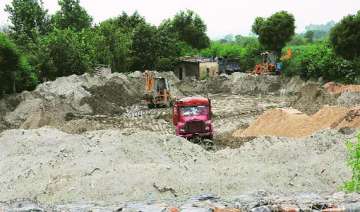 IANS
August 17, 2013 6:48 IST
Hapur, UP
: The Noida sand mafia has allegedly shifted its activities to Saharanpur in Uttar Pradesh, police said Friday after they seized 15 trucks loaded with sand and arrested the drivers.
The sand was being brought to Noida from Saharanpur, police said.
Police said the drivers said that after raids by teams of the National Green Tribunal, sand mining had moved to Saharanpur. The sand would be transported via inconspicious routes instead of on highways, police said.