Sandhya Singh case: son Raghuveer seeks anticipatory bail
Mumbai: Raghuveer Singh, the son of Sandhya Singh, yesteryear actress Vijeta Pandit and music composer duo Jatin and Lalit Pandit's sister, whose skeletal remains were found early this year, yesterday sought anticipatory bail from the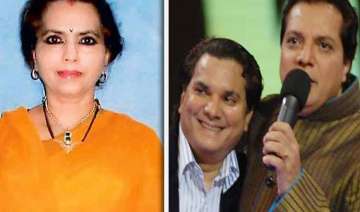 PTI
August 14, 2013 7:39 IST
Mumbai
: Raghuveer Singh, the son of Sandhya Singh, yesteryear actress Vijeta Pandit and music composer duo Jatin and Lalit Pandit's sister, whose skeletal remains were found early this year, yesterday sought anticipatory bail from the Bombay High Court after his name cropped up as a suspect in the murder case.
"Raghuveer has been falsely shown as a suspect in the case. He has been appearing before the police authorities for questioning since six months. He has also offered to undergo brain mapping and polygraph tests to prove his innocence,"
Raghuveer's counsel Ashok Mundargi said. The remains of Sandhya (50) were found in January this year not far from her apartment in Seawoods area of Navi Mumbai. Sandhya had gone missing in December 2012 soon after she left her home to deposit jewellery worth lakhs in a bank.
The investigation into the murder was transferred to the Navi Mumbai crime branch after the local police failed to crack the case.
The crime branch has so far interrogated several persons, includin Raghuveer, his girlfriend Shreya and Sandhya's IRS officer husband Jai Prakash Singh.
Mundargi argued in the court that Raghuveer would continue to assist police in the probe.
Justice R P Sondur Baldota today adjourned the matter till August 20 and asked police not to take any coercive steps against Raghuveer till the next date of hearing.