Sarus cranes missing in UP; forest department seeks help from NGOs and photographers
New Delhi: Survey carried out to record the number of Sarus birds in Uttar Pradesh is almost over, but surveyors are yet to locate a single bird yet in Ghaziabad district.The forest department has now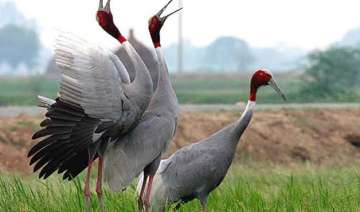 India TV News Desk
January 21, 2015 14:48 IST
New Delhi: Survey carried out to record the number of Sarus birds in Uttar Pradesh is almost over, but surveyors are yet to locate a single bird yet in Ghaziabad district.
The forest department has now asked photographers and activists to come to their aid.
According to forest officials, the survey is expected to be over in another 10 days
"There was a pair of sarus crane near the Ganga canal area near Masuri and was sighted 4 to 5 months back. However in our present survey, the bird has not been sighted so far and we fear that they are no more present in Ghaziabad. We have sought help from NGOs and other wildlife activists to help us of they come across he bird in Ghaziabad," divisional forest officer Joga Singh told HT.
"There has been a depletion of farmlands and water bodies in Ghaziabad due to rapid urbanization.
These birds thrive in such areas, but their presence is not sighted now. The rapid urbanization may have taken its toll.
Our survey is expected to get complete in another 10 days but the state official bird has not been sighted so far," Singh added.
Sarus cranes are mostly found in parts of the Indian sub-continent, Southeast Asia and Australia. It is one of the tallest flying birds. They are found in wetlands. The UP government named it state bird in 2014.