Schoolboy Crushed To Death By Train While Hearing Music On Headphone
Ghaziabad, Jan 29: Kaushalendra, a class nine student of Mata Sundari School, Delhi, was crushed to death by the Garib Rath Express at Sahibabad station on Saturday while listening to music over the headphone. A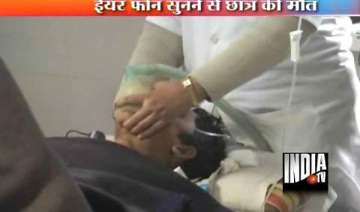 India TV News Desk
January 29, 2012 10:25 IST
Ghaziabad, Jan 29: Kaushalendra, a class nine student of Mata Sundari School, Delhi, was crushed to death by the Garib Rath Express at Sahibabad station on Saturday while listening to music over the headphone.

A resident of Ghaziabad, he had gone to the Sahibabad station to board a train for Delhi. While on the railway truck, he was busy listening to music, when the Garib Rath Express crushed him.

The 14-year-old student lost both his legs, and while being taken to hospital, he succumbed to his injuries.

On December 1, two school students rahul and Kuldeep were crushed to death by a train  in Ghaziabad, while listening to music on the headphone. They were students of DDPS School.