Scientific research must benefit common man: Pranab
Kolkata: President Pranab Mukherjee Monday called for research endeavours to advance the realms of knowledge and improve the life of the common man."Science is one of the creative endeavours of human mind. It plays a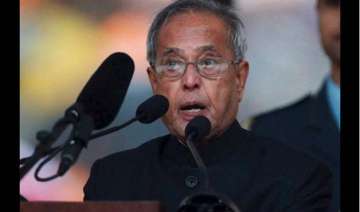 India TV News Desk
January 06, 2015 13:21 IST
Kolkata: President Pranab Mukherjee Monday called for research endeavours to advance the realms of knowledge and improve the life of the common man.
"Science is one of the creative endeavours of human mind. It plays a vital role in the advancement of human life and is central to technological progress," the president said in a video message at the presentation of Infosys Prize 2014 here Monday.
He also congratulated the Infosys Science Foundation for instituting the awards that recognize and honour outstanding achievements of researchers and scientists across six categories, said an official communique of the President's Secretariat.
Congratulating the winners at the occasion, Pranab Mukherjee said he was confident that their achievements would inspire Indian youth to dedicate themselves to the service of science and society.
"A scientific culture must determine the choices and decisions made by individuals, societies and nations. India's future is inextricably linked to the progress we can make in establishing strong foundations for scientific research within our country," he said.