Seemandhra Cong leaders to step up demand for united AP
Hyderabad: Congress leaders from Andhra-Rayalaseema regions of Andhra Pradesh once again resolved to present a strong case before the party high command against the proposed division of the state.APCC president Botsa Satyanarayana, ministers and legislators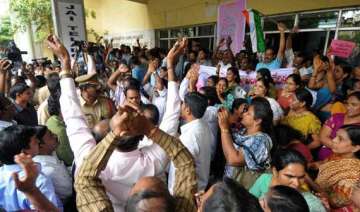 PTI
August 18, 2013 8:00 IST
Hyderabad
: Congress leaders from Andhra-Rayalaseema regions of Andhra Pradesh once again resolved to present a strong case before the party high command against the proposed division of the state.
APCC president Botsa Satyanarayana, ministers and legislators from two regions held a meeting at Chief MinisterN Kiran Kumar Reddy's camp office here this evening and
discussed the issues to be presented before the AICC-appointed A K Antony Committee on the state bifurcation issue.
The predominant view that emerged at the meeting was that the state should be kept united in deference to the wishes of people. "Otherwise, the party can be written off in these regions," they feared.
The Andhra-Rayalaseema leaders are expected to present their case before the four-member Antony Committee in New Delhi on Monday and Tuesday in two separate groups.
They reportedly wanted Union Ministers from the two regions to quit their posts forthwith to mount pressure on the party high command and stall the state's division, sources said.
"We will try to convince the Union Ministers to resign from their posts so that more pressure could be built on the high command against the bifurcation," a senior minister said after the meeting.
The Congress leaders, who are under fire from people in Andhra-Rayalaseema following the party's decision to divide the state, observed that the people of the two regions were in no mood to accept the division.