Seemandhra, Rayalaseema leaders meet Sonia
New Delhi, Aug 7: Amid continuing protests over the creation of a separate Telangana state, Union Ministers from the Seemandhra region yesterday met Congress President Sonia Gandhi here and expressed the "sense of deprivation" prevailing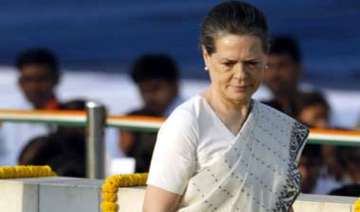 PTI
August 07, 2013 7:23 IST
New Delhi, Aug 7
: Amid continuing protests over the creation of a separate Telangana state, Union Ministers from the Seemandhra region yesterday met Congress President Sonia Gandhi here and expressed the "sense of deprivation" prevailing in Andhra and Rayalseema regions.
During the meeting, Gandhi told them that a committee of three senior leaders will be formed, which will look into their grievances, as the ministers told her about apprehensions among people in their constituencies.     
During their meeting with the Congress President, the Ministers, including M M Pallam Raju, K S Rao, K Chiranjeevi, J D Seelam, Panabaka Lakshmi, D Purandheswari and Kruparani Killi, are learnt to have raised the demand that Hyderabad should be retained as permanent common capital of two Telugu- speaking states on the line of Chandigarh.    
Two other Union Ministers from the region, K C Deo and Kotla Jayasurya Prakasha Reddy, were not part of the delegation.