Air pollution: Delhi records only 7 'healthy' days in the last few years
New Delhi: Delhi recorded 'healthy' air condition only for seven days in the last two years, a recent study has revealed.The study claimed that air in the Indian capital is more toxic than that of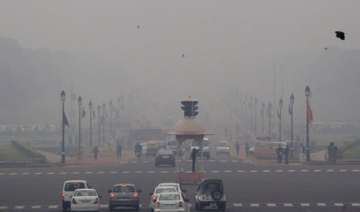 India TV News Desk
April 22, 2015 10:50 IST
New Delhi: Delhi recorded 'healthy' air condition only for seven days in the last two years, a recent study has revealed.
The study claimed that air in the Indian capital is more toxic than that of Beijing.
A comparative analysis of the data from the two cities conclude that, according to the US air quality standards, Delhi cleared the 'healthy' mark only for seven days while Beijing hit the mark 58 times in the last two years.
Professor Douw Steyn of the University of British Columbia, an air pollution expert who performed the study, compared the data from the pollution monitoring station at RK Puram in Delhi and the US embassy in Beijing.
"Unpolluted (healthy) conditions were found in Delhi for less than 1% of the time while such conditions exist in Beijing approximately for 8% of the time," Steyn said.
The data shows that in Delhi, the level of microfine particles known as PM 2.5, which is considered most dangerous, was above the 'hazardous' level 17% of the time, or nearly one day in five. At these levels, according to the US definition, "everyone may experience serious health effects".
Whereas in Beijing, only 7% of days reached this catastrophic level, thanks to the air pollution control measures the local authorities have taken in the last few years.
Gufran Beig of the Indian Institute of Tropical Meteorology (IITM), however, expressed doubts over the findings and said that comparing pollution levels at RK Puram with the US embassy in Beijing was not correct because of a huge geographical difference between the two locations.
"The US embassy is outside the polluted zone of Beijing and has a lush green area on one side and a big water body on the other, both contributing to pollution sequestration. RK Puram is middle of Delhi and is next to the congested Ring Road without any sequestration zones," he argued.
Steyn used United States air quality index (AQI) which is more stringent than the recently launched Indian air quality index. Indian AQI showed some good air days for Delhi in March.
The US index equates air quality of a city on six parameters — moderate, unhealthy for some, unhealthy, very unhealthy and hazardous.
In a move to reduce air pollution in the capital, the National Green Tribunal recently ordered to ban diesel vehicles more than 10 years old.